When Your Art Can Travel to Your Exhibition but You Can't
The impossible lives of African asylum seeker artists in Israel. 'Whenever these thoughts are getting to me, I paint and it calms me'
Lina Otom Jak Agolon with a mask that was inspired by her grandfather, one of her pieces in 'The One World' group exhibition at Paterre in Tel Aviv.
Credit: Avshalom Halutz
In June, the artist Lina Otom Jak Agolon took part in the group exhibition "The One World," curated by Sandra Weil at the Parterre Gallery in Tel Aviv. She was able to attend the opening and see the three works she contributed to the show on display: a large embroidery of her home in South Sudan; a water jar that she crocheted using a technique similar to that of the women in her village and a mask inspired by her grandfather, who was the village headman.
The artist wasn't able to attend the 2020 opening of "Ambiguity," a group show in Sweden that included works by her. Otom Jak Agolon watched the opening on Zoom: While her artworks could fly abroad and return, as an asylum seeker without residency status she was unable to leave Israel.
Becoming an artist was never something that Otom Jak Agolon, 46 and married with four children, planned. Her artistic talent was revealed in a moment of crisis.
In 2002, when she was 26, she fled to Egypt from South Sudan with her husband and two children, fearing their lives were in danger. In 2007, when life became dangerous for asylum seekers in Egypt, they crossed the border into Israel. She began working as a cleaner in Tel Aviv, and her husband worked in a restaurant. They had two more children.
In June 2012, at the instruction of then-interior minister Eli Yishai, Israel ended its collective protection policy for citizens of South Sudan. The Supreme Court allowed 1,500 South Sudanese to be deported. Although as a mother with children Otom Jak Agolon was not expelled, she and her family were afraid to leave the house. "I remember the knocks on the door back then," she says. "My whole family stayed inside for days. We were afraid to go out because policemen were roaming the streets and grabbing asylum seekers. I lost my job, I didn't have papers, the money ran out and we had nothing left to eat in the house."
After a few days, she mustered the courage to go to an organization that assists asylum seekers. "I came with traditional bracelets and beads that I planned to sell," she says. "I was very desperate." She was directed to Kuchinate, an arts-based employment and psychosocial project for female asylum seekers from Africa.
Diddy Mymin Kahn, director and co-founder of the project along with Eritrean nun Aziza Kidana, says: "As soon as she arrived, she started decorating the baskets with beads that she had, and it was obvious that she was very talented."
Otom Jak Agolon says that engaging in this work took her back to her childhood and the time she spent with her grandmother in their village in South Sudan. "Before that, I had never thought of myself as an artist," she says with a smile. "It was just something familiar and natural to me from childhood."
She continued to work as a cleaner during the day and make baskets and rugs for Kuchinate at home in the evenings. "The items she made were so beautiful that they always sold right away," says Mymin Kahn. By 2016, when the project had grown substantially, Otom Jak Agolon was able to dedicate herself full-time to working with Kuchinate. She became the studio manager and the director of product development and store design. Mymin Kahn put her in touch with curators and artists, and Otom Jak Agolon began to flourish as an artist.
"I tell my story and the story of my village through art," she says. Otom Jak Agolon applied for asylum in 2013, but her status has not been formalized. "There's a lot of uncertainty when you are living as an asylum seeker in Israel," she says. "When I am working on my art, it quiets my thoughts a little, it calms my soul."
"Artists who are asylum seekers face a lot of restrictions and barriers," says Hamutal Sadan, 34, a doctoral candidate in African and Middle Eastern history at Tel Aviv University who studies art made by African refugees and asylum seekers in Israel. "Because asylum seekers have no legal status or basic rights, they are always in survival mode and have almost no emotional opportunity to be creative. Many of them also have serious and untreated post-traumatic stress disorder and a lot of problems."
Sadan's master's thesis was the first in Israel to look at asylum seekers' art, and she is now expanding her research for her doctoral dissertation. Sadan volunteered for five years at the Hotline for Refugees and Migrants, and currently works as its director of resource development.
As part of her research, Sadan created a chart of all asylum seeker artists working in Israel. "In Israel, there are more than 200 such artists," she says. "This is an estimate, of course. They are working in painting, sculpture, photography, filmmaking, literature and music." Sadan found these artists via word of mouth and a Facebook community she started in 2018.
"They're not just on the fringes of the art world in Israel, they're totally outside the canon," Sadan says. "Many curators, artists, academics and others in the art world have no idea about the culture that is blossoming here. I presume that an asylum seeker artist who is given asylum in Canada has an easier time developing and working than an asylum seeker who tries to develop in the art world in Israel. They are unknown within the art milieu in Israel and when you talk with curators of African art and contemporary art at Israeli galleries and museums, if they pay any attention to the art of asylum seekers in Israel, it's considered 'primitive' or 'naive' art. I think that's terrible. It's disrespectful and derives from a very Western perspective of 'what is art.' Their art is contemporary, but I define it under the heading of 'the art of asylum seekers, and as art in transition.'"
Can you explain why you define it that way?
"It's contemporary art, of course, and it is art that is created by status-less people who are in a temporary state – they are not being granted status so they have no way to plant roots in Israel, and at the same time they cannot return to their home countries because they are asylum seekers and their lives would be in danger. Their art is influenced by this in terms of the style and the themes that come up in it, and the conditions in which it can be created. They have their homeland, their past home, their present home in Israel and their third home – a fantasy of an imaginary home and a better future that is not real. Their identity is in transition and they are in a state of searching and fleeing and that is why I classified their art as art in transition."
Sadan says the asylum seekers' art reflects their situation. "In terms of the themes and the style, this is art that is dynamic because they are in motion and in a state of restlessness. Their art is like a metamorphosis, it is constantly changing and is inspired by the artistic style they were exposed to in their country of origin, on their journey, in Israel, and in their fantasy of being in another place. Their art is also influenced by their legal status in Israel, since they are now living in a country that is constantly imposing draconian laws on them, which raises the question of how they can create critical and political art in these circumstances."
Sadan says that such critical art does exist, but is less common. She mentions a painting by Eritrean asylum seeker Afwerki Teame called "Light Unto the Nations." Teame, 43, has participated in a number of group shows and also had some solo shows, while working for an organization that aids refugees. "He gave the painting that name after he heard MK Miri Regev use that term," Sadan says. "In the painting there is a seven-branched menorah, but instead of spreading light it burns the butterflies and moths that are drawn to it rather than giving them warmth."
Eritrea is a dictatorship that employs heavy censorship and limits freedom of expression. In her research, Sadan searched for current information about contemporary art in Eritrea. She found a government-sponsored English-language Eritrean newspaper that sometimes published articles about artists. "The newspaper presents a false, idyllic picture," she says. She searched for the artists who appeared in the paper, which led to her contacting an artist in Eritrea. "He exposed me to the deep censorship that is exerted upon him as an artist in the country," Sadan says. "He sent me gorgeous paintings he made that he could not display anywhere and said he had to censor himself so his paintings would not be interpreted as criticism against the regime, lest he be punished."
What did you learn from him about what is happening in the art scene in Eritrea today?
"The University of Asmara and other important institutions like the Asmara School of Fine Arts and the Arag art gallery have closed. There is also heavy censorship of art, and many artists have had to flee and find shelter somewhere in exile. For all these reasons, art in Eritrea has been greatly diminished. He says you can't really call painters in Eritrea today artists because they only pretend to be artists. He talked a lot about the connection between art and creative freedom, and how this has been stolen in Eritrea because of the censorship to which artists are subjected."
Asylum seekers also face language and cultural barriers and the Israeli art world is sealed off to them

Hamutal Sadan
In July 2019, Sadan and artist Ophelia Petrosian curated an exhibition, held at a bar-gallery in Tel Aviv, called "With the Wind in My Mind." With the permission of the Israel Prison Service, they went into the Holot detention center in southern Israel with photographer Miriam Alster to document murals asylum seekers had painted. Sadan posted the photographs on Facebook and tracked down the painters. The exhibit comprised 29 works by four artists, all asylum seekers from Eritrea who spent a year in the Holot facility.
One of them, Tsegay Berhe, 42, is a focus of Sadan's research. Berhe was born in a small village, studied carpentry at a vocational school and liked to sculpt in wood. He was drafted into the army in Eritrea in 2002, and worked in carpentry and construction. In 2004, he spent six months studying pencil drawing with a well-known artist in Eritrea. The army kept transferring him from place to place, interrupting his studies. In 2009, when it became clear that his military service had no end date, he deserted and made an arduous two-week trek to Sudan.
When he discovered that Sudan was a dangerous place for an asylum seeker, he fled to Israel, arriving in 2010. He was placed in the Saharonim detention center for a month. When he got out, he moved first to Tel Aviv and then to Hadera, where he began working at an outpatient program for psychiatric patients. He didn't paint at all during this period.
"I didn't have time," he explains. In 2015, Berhe was sent to the Holot detention center for a year. There, he fixed up a smudged mural someone had painted. The manager of the section loved it and offered to give Berhe paint and a monthly wage of 300 shekels (about $75) to work as an artist.
Although he was only employed 10 days a month, Berhe painted every day. He painted animals in nature, as well as Eritrean people. After he was released from Holot in 2016, he returned to Hadera. He currently works in a supermarket and at a center for psychiatric patients. Since leaving Holot, he has returned to painting. In 2015, he officially applied for asylum, but has not received a response. Twelve years after coming to Israel, he must still renew his visa every few months.
Berhe has shown his work in two shows, and he paints every evening. He shares an apartment with four roommates. "It's hard to paint in the apartment, it's small. That's why I make small paintings. I paint what there was in my country and what we endured on the way. I want to explain through painting what I went through. I'm very anxious about being able to keep going in Israel. It's very hard to live when you have no legal status. Whenever these thoughts are getting to me, I paint and it calms me."
Sadan: "In addition to the lack of legal status and the difficulties of making a living, asylum seekers face language and cultural barriers and the Israeli art world is sealed off to them. More curators, gallery owners and museums need to reach out and search for and open the door to these artists."
Cherubin Ngemba, 32, is a musician from the Democratic Republic of Congo. "I started to sing and play at the age of 12 on bass guitar, drums and keyboard. I studied music in school and started performing at an early age," he says.
His father headed an organization that helped young people and opened their eyes to what was happening in the country. Ngemba supported his father and helped him with the organization. During one of its meetings, a group of armed men broke in and violently beat him and the others present. The message was understood, and Ngemba left the organization. When he later performed on TV, he mentioned a future show and said his father would give a speech during it.
"The next day a group of armed men arrived at my performance and started to shoot at everyone alongside me on the stage," he says. They shot several of my friends to death. I fled to my house from there. I parted from my mother, who is a sick woman, and escaped to the church. I couldn't leave there for several weeks. I lost my freedom and was in mortal danger."
Several weeks later, he managed to flee from Congo to Israel, in 2016. "When I first arrived I performed and did odd jobs," he said. "I'm now working in a restaurant for 10 hours a day. It's very hard to stand on your feet all day long, and then to go onstage and perform before an audience in the evening. There are evenings when I'm very tired but I have to go because music fills my life and it's the only thing that makes me happy."
Ngemba applied for asylum immediately upon his arrival. He is still waiting for a decision on his case.
Click the alert icon to follow topics:
ICYMI
Ken Burns' Brilliant 'The U.S. and the Holocaust' Has Only One Problem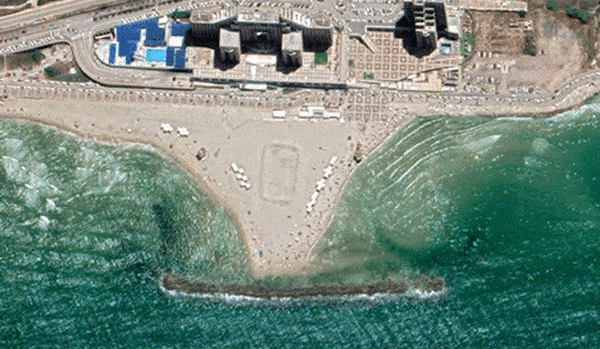 Facing Rapid Rise in Sea Levels, Israel Could Lose Large Parts of Its Coastline by 2050
As Israel Reins in Its Cyberarms Industry, an Ex-intel Officer Is Building a New Empire
How the Queen's Death Changes British Jewry's Most Distinctive Prayer
Chile Community Leaders 'Horrified' by Treatment of Israeli Envoy
Over 120 Countries, but Never Israel: Queen Elizabeth II's Unofficial Boycott